Open by appointment. We can ship most items. Located in Mendocino, California

Please also visit our friend's site Lark In The Morning for an incredible selection of musical instruments, books and instructional material from all over the world.

About Folk World Music

How And Where To Buy

Click

to see image of instrument.

---
Horns
Quart Bass Sackbut Helmut Finke


AFL011 $1500.00


---
Furst-pless Hunting Horn, green leather wrapped, nice condition

AMD036 $600.00
---
German Bugle Brass Set of 4 brass and nickle mounts, c1890





AMI197 $2000.00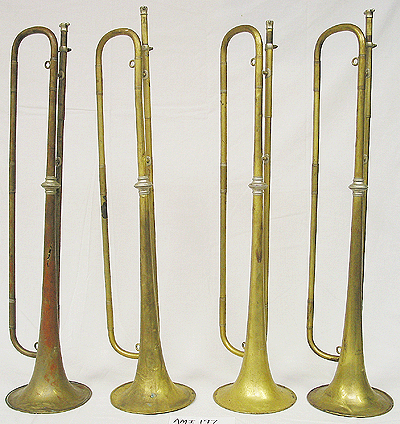 ---
Trumpet Rotary Valve Brass Anon, brass & nickel, abalone buttons C1890




AMI272 $750.00
---
Cornet Adolf Schmidt, shepherds crook,









AMI291 $200.00
---
Alto Horn Fritz Horst c1890, mechanical action, rotary valve, maybe either an alto or tenor horn, dent in bell




AMI294 $1000.00
---
Alto Horn Prem Stab, Italy, rotary valve











AMI296 $1000.00
---
Trumpet Rotary Valve Brass Otto Knoll, rotary valve, brass





AMI299 $1000.00
---
Baritone Horn Aug Clemens Glier, rotary valve, nickel straight forward, either tenor or baritone c1880





AMI307 $1000.00
---
Alto Horn Boston Musical Instrument Mfy, upright, brass c1870

AMI309 $800.00
---
Trumpet Rotary Valve Brass Schuster 4 rotary valve, brass



AMI503 $1000.00

---
Return to Folk World Music Main Page

Folk World Music is an antique, vintage and unusual musical instrument business.
How To Buy
Call or email for more information.
If you are coming to Mendocino, California it may be possible to make an appointment
(707) 397-5683 email info@folkworldmusic.com
PO Box 1176, Mendocino, CA 95460

---
We can appraise your instruments.

---
We buy old instruments.

---
All instruments are sold as is. All prices are firm. Some items need restoration.
Please call with any questions.
Buyer pays all shipping & packing charges.
California residents 7.875% sales tax.

---
We now take PayPal or credit cards through PayPal.

We are adding buttons that include packing & shipping charges in the 48 states.
If a button does not appear by an item that you want let us know and we will add the button.

---
If paying by check please check with us for shipping charges.
All checks made out to Mickie Zekley
Bank checks or postal money orders only for domestic sales.
Foreign orders Western Union payments only.
You may contact us before making payments
We offer a 3 day trial period on most items.



Lark Camp | Lark In The Morning | Mickie & Elizabeth